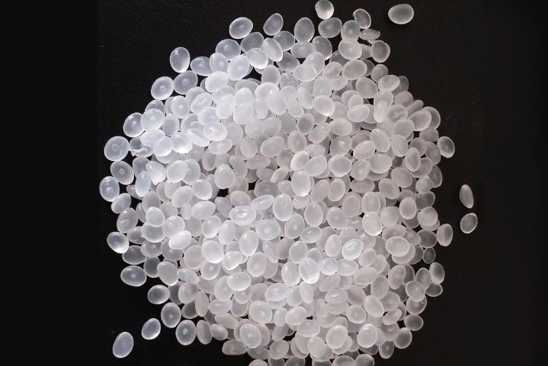 Low-density polyethylene (LDPE)
is a thermoplastic made from the monomer ethylene. Because of its lower density (high branching), it breaks down more easily than other plastics; it is defined by a density range of 917–930 kg/m3. At room temperature it is not reactive, except to strong oxidizers; It can withstand temperatures of 65 °C (149 °F) and 90 °C (194 °F) for a short time. it is quite flexible and tough.
It has more branching than HDPE, so its intermolecular forces (instantaneous-dipole induced-dipole attraction) are weaker, its tensile strength is lower, and its resilience is higher. The side branches mean that its molecules are less tightly packed and less crystalline, and therefore its density is lower.
When exposed to consistent sunlight, the plastic produces significant amounts of two greenhouse gases: methane and ethylene. Production of these trace gases from virgin plastics increases with surface area and with time, so that LDPE emits greenhouse gases at a more unsustainable rate than other plastics.
It was the first grade of polyethylene, produced in 1933 by Imperial Chemical Industries (ICI) using a high pressure process via free radical polymerization. Its manufacture employs the same method today. Despite competition from more modern polymers, it continues to be an important plastic grade.
Low-density polyethylene (LDPE) specification table No 1
GRADE

APPLICATION

MFI gr/10min

DENSITY gr/cm3

1800 S

Caps & Closures. Sports. Leisure and Toys

20.0

0.917

2420 D

Food Grade. Bags & Pouches. Bottles for consumer Goods. Shrink Film. Blown Film Film

0.25

0.923

2420 F

Bags & pouches .Blow Moulding Application. Shrink Film. Blown Film. Film

0.75

0.923

2420 H

Food Grade. Bags & pouches. Film. Shrink Film. Blown Film. Cast film

1.9

0.924

2420 K

Coatings. Protective. Shrink Film. Surface Protection Film

4

0.924

*2426 F

Cast & Blown Film. Bags & Pouches. Film & Shrink Film. Food Packing Film. Surface protection Film.

0.75

0.924

*2426 H

Cast Film. Bags & Pouches. Film & Shrink Film. Blown Film. Surface protection Film.

1.9

0.925

*2426 K

Cast Film. Food Packaging

Film. Film & Shrink Film. Blown Film. Surface protection Film.

4

0.925

3020 F

Bags & Pouches. Cast & Blown Film. Film & Shrink Film. Food Packaging Film. Surface protection Film.

0.9

0.927

3020 H

Cast & Blown Film. Bags & Pouches. Film & Shrink Film. Food Packaging Film. Surface protection Film.

2.0

0.927

3020 K

Cast & Blown Film. Lamination Film. Film & Shrink Film.

4.0

0.927

*3026 H

Cast & Blown Film. Bags & Pouches. Film & Shrink Film. Food Packaging Film.

2.0

0.927

*3026 K

Cast & Blown Film. Lamination Film. Film & Shrink Film. Food Packaging Film.

4.0

0.927

*Product with additive